This week we'll take a look at a new version of FormBuilder that's on the way (with a screencast), as well as the latest version of the core: ProcessWire 3.0.140.
ProcessWire FormBuilder v40
There are a couple of new features coming to FormBuilder that I wanted to communicate here. But rather than write about them, I figured I'd show you instead. Here's a screencast (8 min) that demonstrates two new features coming soon to FormBuilder v40: forms within forms, and paginated forms. Both are fully functional already (as seen in the video) though still in testing and receiving some finishing touches. I expect to have the version ready to release hopefully later this month.
ProcessWire Core 3.0.140
This week there's a new version of the ProcessWire core on the dev branch, version 3.0.140. The primary difference between this version and the last is that this version adds the FieldtypeToggle module that I mentioned last week. Meaning you can now create ProcessWire fields that use the Toggle type. (See last week's post for more about this new input/field type in ProcessWire).
In addition to that, the Toggle Inputfield (added last week) field also received several upgrades as well. One of the most visually apparent is that you now have an option of presenting the toggle field as something that also looks like a toggle button (in addition to the existing radio button and select options) — here's a couple of examples: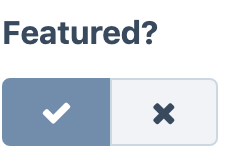 Hope you all have a great weekend and enjoy reading the ProcessWire Weekly!
Comments
30 August 2019
This latest version of ProcessWire on the dev branch adds a new Inputfield module called "Toggle" that is an alternative to the existing Checkbox Inputfield. It also adds a nicer way to make column width adjustments to your fields when editing a template. This post covers all the details with screenshots and a short video.  More
20 September 2019 3
This week's dev branch version brings you improvements to ProcessWire's $input->cookie API variable, adds a new hook, and now lets you modify system URLs and paths at runtime, along with a few examples to demonstrate just how useful this can be.  More