ProcessWire 3.0.78
ProcessWire version 3.0.78 is another small incremental upgrade that contains mostly changes geared towards supporting customization of core modules from admin themes. If you are testing out the latest version of the AdminThemeUikit module, I strongly recommend you grab this version. But if you aren't testing it, then there's no need to upgrade from 3.0.77 to 3.0.78.
Progress continues on the Uikit-based admin theme
Like last week, this week progress continued on the new admin theme. I'm getting down into some of the smaller details, and looking for cases where things might not work quite right, and fixing them. For example, the admin theme wasn't working with the SystemNotifications module, so that's been fixed.
Thanks to all of you for your testing and feedback. There's still more ground to cover, but it's now quite stable and should work fine in many production environments at this point. Because I'm mostly into the detailing work right now, I don't have a lot to write about, so consider this post as a brief continuation of last week's post.
Relative to last week's version, there's a lot of little tweaks, fixes and optimizations. Visually the biggest difference is probably in the Page List, where there's some experimentation going on. I'm not sure if it'll remain, but going to work with it for a bit and see how it goes.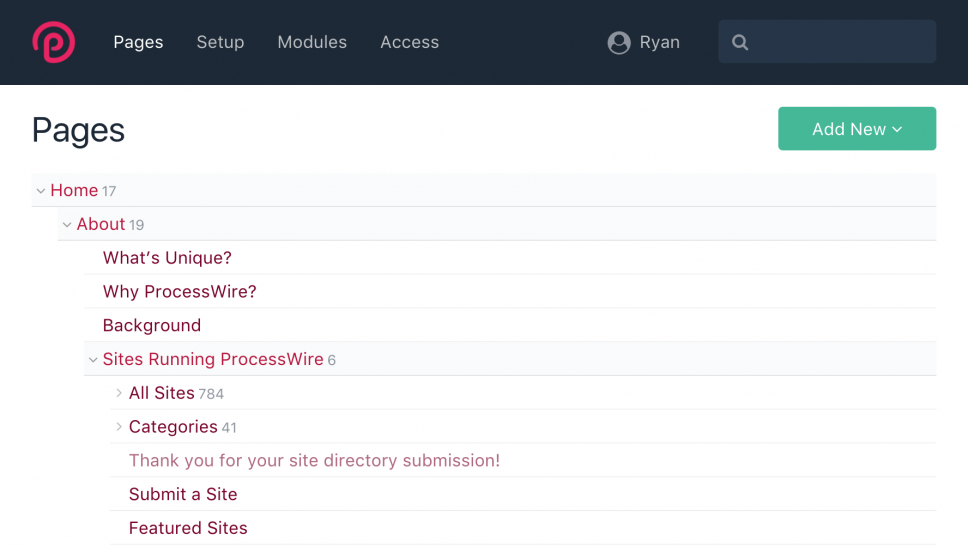 When the page list is used in the sidebar (using the left or right sidebar layout), a more minimal version of the Page List is used. In addition, it now only shows "Edit" and "View" links, moving the "New" and "Move" links into the extra actions, revealed by clicking the ">". This helps reduce the horizontal space requirements when the Page List appears in a sidebar (for less word wrapping).
Another nice update this week was this addition in the field editor. You can configure the admin theme settings for Margin, Border and Colors, for any field. You'll see it when editing a field, under the "Input" tab, in the "Admin theme settings (Uikit)" field. It appears right below the "Visibility" field. It also includes a live-updated Example field, so that you can see what your customizations look like, as you make them. Also worth noting is that these customizations can also be configured in field/template context, enabling you to use different settings for the same field, depending on the template it appears in.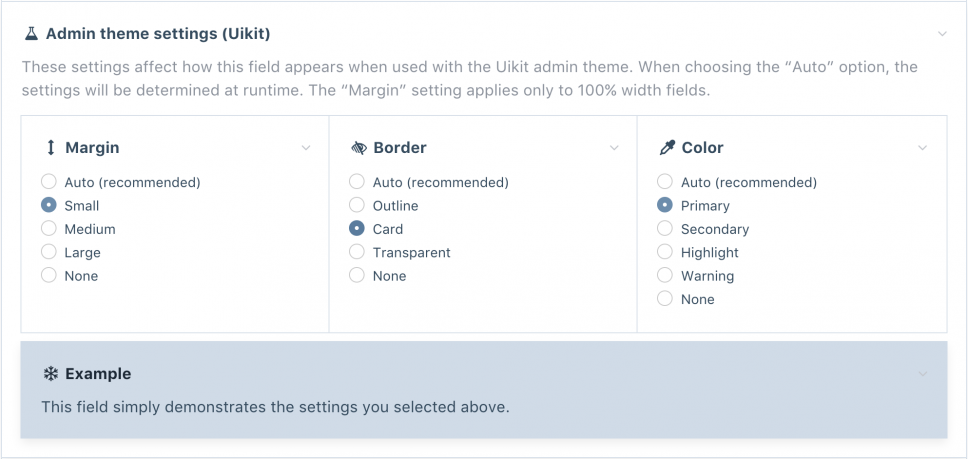 When the new admin theme is fully ready, chances are we'll be adding it to the core and it'll take on the "default" admin theme name, while the current default admin theme will remain, but become the "legacy" admin theme. The Reno theme will of course remain as well.
Just for fun, here's a screenshot of editing this post. Note though that the status bar which appears right under the masthead is from ProDrafts, and doesn't appear there unless ProDrafts is active.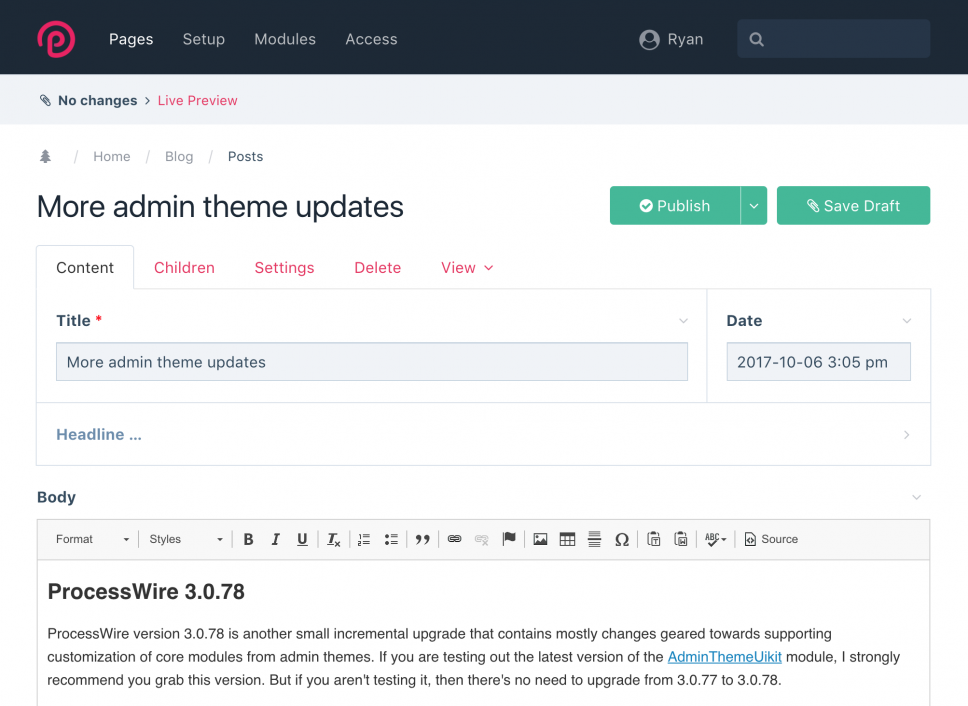 Live demo
If you'd like to try out this admin theme without installing it, I've just installed a fresh copy to our Regular demo site. Login with user "bloguser" and password "processwire3".
This post is just a quick update, but for more on this admin theme, be sure to see last week's post. Have a great weekend, and enjoy reading the ProcessWire Weekly.
Comments
29 September 2017 7
This week we've got another update to the new Uikit 3 based admin theme, AdminThemeUikit. It now has the flavor of Tom Reno's fantastic AdminThemeReno, and we think you'll like the result. In this post we take a closer look with screenshots and more. More
20 October 2017 5
This week we've got a new version of ProcessWire 3.0.80. In this post we also look at how to create a language pack, and answer a lot of common questions about Pro module renewals, upgrades and more. Lastly, we take a brief look at the upcoming CKEditor 5. More