Increasing our visibility
This week we're going to look at our path for growth in 2016, which is already off to a nice start! This includes where we've been, where we're going, and how we will get there–with your help. We actually do have several core updates prepared too, but mostly smaller things that will fit better in next week's post.
This post originally started as a section of our 2016 roadmap, but I decided it really deserved its own post, so saved it for this week so that we could cover it more in-depth. However, you might consider this part of, or a continuation of, our 2016 roadmap. But rather than looking internally, much of this post looks externally, outside of our software and community, and into the bigger picture of ProcessWire in the web development/design world.
Getting to know ProcessWire
Despite being an open source project for more than 5 years, ProcessWire is still relatively unknown to the web development/design world, though always gaining traction. Web developers and designers are our target audience. But ProcessWire remains the secret weapon of the few, and probably most that would benefit from it have not yet heard of it. We've got the product and community to make a lot of people happy, and they just need to find us.
2016 is the year where I think we should really get the word out there. By the end of this year, wouldn't it be great if at least half of web developers and designers in the world would at least know of ProcessWire? (rather than the more common "what the heck is ProcessWire?" or "I've never heard of that.") This post discusses a few ways we might get the word out. But we want to hear from you too–how do you think we make more connections to our audience?
External articles, blog posts and tutorials about ProcessWire
If you have an opportunity to write something about ProcessWire, please do. Let us know what we can do to help, any time. This week was incredible – we saw two new fantastic articles at tutsplus.com:
These two articles are some of the best I've read on ProcessWire. These guys get it, and they know how to communicate it beautifully. These sorts of articles are perhaps the most important key in growing ProcessWire, as they get the word out to people that otherwise might never know about PW. After all, Tutsplus has quite a following in the web world. Ben and Francesco's work this week likely makes a bigger difference to ProcessWire's growth than all the blog posts I've ever written here. Huge thanks to you guys and keep up the awesome work!
This is exactly the kind of exposure we need, and we could use more of it. If you have an opportunity to share ProcessWire on an external site like this, know that you are doing great things and making a big difference for the project. And please contact me if there's anything that I can do to assist.
If you have a moment, please click to those articles on Tutsplus above and reply in the comments section to let both the authors and Tutsplus know how much these quality articles are appreciated. We'd love to see more of these, and so long as Tutsplus sees a lot of traffic and positive commentary on these, I'm sure we will!
Links to processwire.com
Looking in Google Analytics, our referrers list has stayed roughly the same for the last couple of years, and in many cases is "us" linking to "each other". For instance, our own sites, our GitHub repo, and weekly.pw are usually our biggest sources of traffic. That's great, but looking through our entire referrers list, we don't have great link visibility outside of ourselves. It's a little difficult for someone that doesn't already know about ProcessWire to find us. We need your help and advice, how can we increase our links and visibility beyond ourselves?
Here's our top 25 referrers list for January, 2016, so far. As you can see, the Tutsplus articles and related Facebook and Twitter (t.co) referrals have brought some nice diversity to our referrers this week.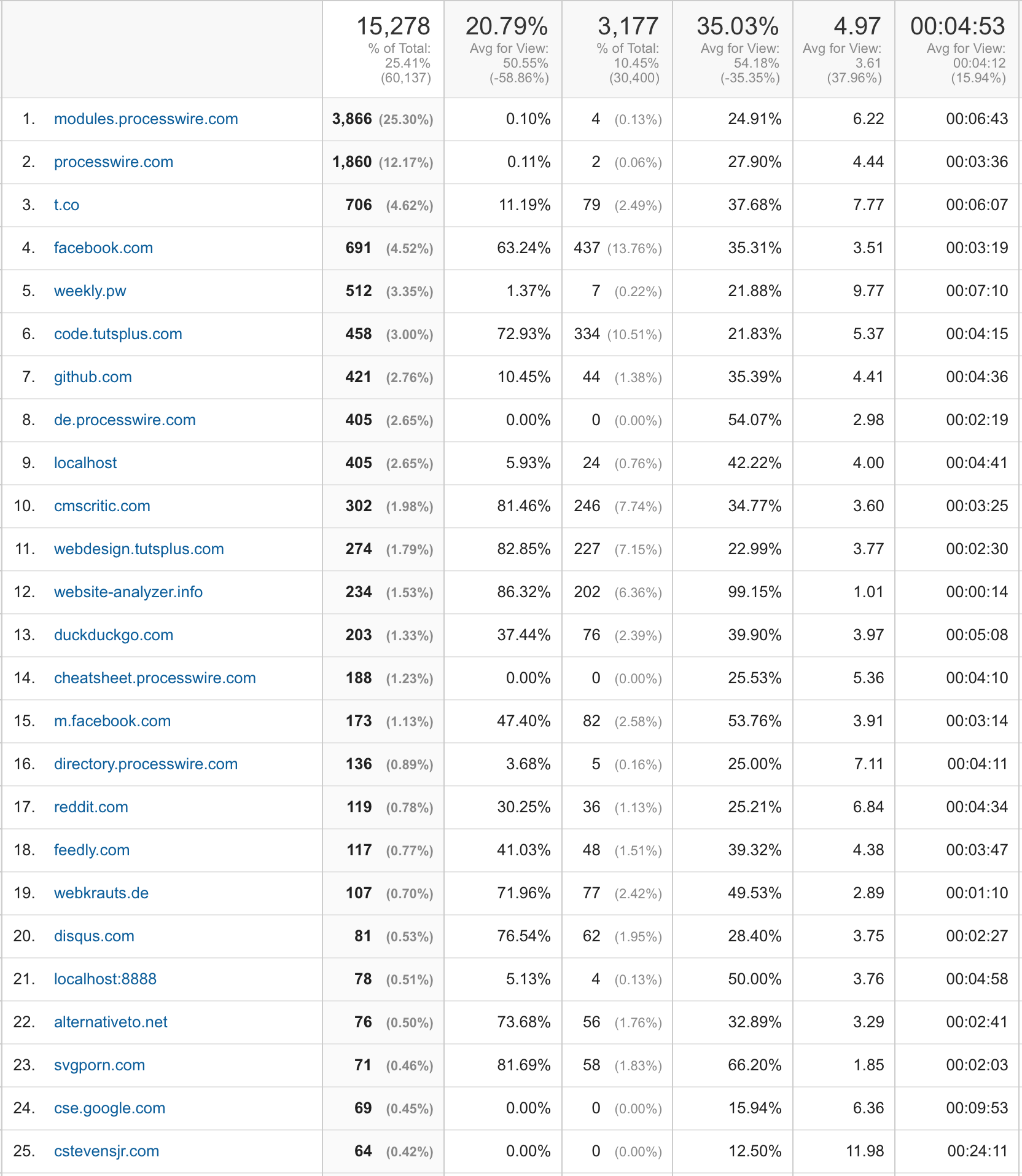 Social network activity
While we are an incredibly social bunch in the ProcessWire forums, our social network reach doesn't extend much beyond that. The ProcessWire forums are my social network at least. It's somewhat of a rare event to find a mention on Twitter or Facebook (other than this week, thanks tutsplus!). This is my fault–I enjoy implementing a social network API more than actually being a participant. :) But some of you are social networking gurus, and we need your help.
One thing about web developers and designers is that we mostly find out about tools from communications with other developers and designers. I would bet that few of you originally found us from Google or some other search engine, because that's just not how we usually do it. Instead, we find out about new tools from discussions, articles, reviews and people that we think are trustworthy. We find out about these things socially. This is why I think expanding our social reach is absolutely key in getting the word out.
Twitter and Facebook
In 2016, we'd like to improve ProcessWire's social network reach on Twitter and Facebook. Keep an eye out for CMS discussions where you think ProcessWire deserves a mention. In fact, back when ProcessWire was just me, this was how I originally tried to get the word out after releasing PW2 in October of 2010. I would hunt around Twitter for CMS discussions where people appeared to be looking for something that ProcessWire offered, and that's what got the ball rolling. I think that maybe a few of you that are here today originally came here as a result of some of this chatter on Twitter so long ago.
Here are a few examples of the kind of social network activity that we love to see…
Reddit and such
There are pretty much daily discussions in the webdev, php and web_design subreddits that are applicable to ProcessWire. Yet it doesn't come up so often because not a lot of people there know about it. But when ProcessWire does get a mention there, we tend to see a lot of activity from it, and as a result, new ProcessWire users.
Some of you found out about ProcessWire from discussions on Reddit. If you are a Reddit user, don't be shy about mentioning ProcessWire when you think it's appropriate. When someone would benefit from ProcessWire, you are really helping them by asking them to take a look. Some of you might not have found us had it not been for such discussions on Reddit and similar sites.
Blog and article comments
When someone posts in their blog about CMSs or publishes an article about various CMSs, very often they've completely missed ProcessWire, since we're not as well known as others. This only reinforces the current landscape, where people looking for a product like ProcessWire end up thinking they have to settle for the WordPress, Joomla, Drupal (or one of the other familiar names), because it's what's being talked and written about.
When one of these articles/posts pops up, some of you are really good about replying in the comments and telling them to have a look at ProcessWire. Please keep doing it! We notice it and it is incredibly helpful, so thank you for doing it.
CMS Reviews
If you see an opportunity to review ProcessWire anywhere, please do so. Particularly on sites that let you write a written review to accompany a star rating. For instance, we'd love to see more ratings/reviews for ProcessWire at Bitnami, Softaculous, or anywhere else you can find that will let you leave a review or rating of ProcessWire.
High profile projects, sharing your work and case studies
Over the last year, I'm aware of a few very high profile projects that are using ProcessWire… brands that everyone knows worldwide, even your grandmother. They are projects I was made aware of, but have no involvement in. Yet they are "confidential" and the development companies aren't allowed to reveal they are using ProcessWire. And I gather that ProcessWire is likely being used on a whole lot of other high profile projects that none of us know about.
While it's thrilling to secretly know when PW is being used on a high profile project, it's also discouraging when we can't tell anybody about it, because one of the first things that clients new to PW ask is "who is using it"? Being able to communicate that "some-big-project uses ProcessWire" is so important for our growth, but many seem intent on keeping it a secret.
If you are developing any project in ProcessWire (whether high profile or not), please consider if there is some way that project might give back to ProcessWire simply by finding a way to communicate that ProcessWire is in use. For example:
Powered by ProcessWire
Another thing you can do is to show a small "Powered by ProcessWire" in the site footer that links to processwire.com. If you aren't sure the client will be agreeable, give them a checkbox field on the homepage they can use to toggle it on or off. That way the choice is theirs. Though it's good to explain to them that they get ProcessWire for free, and the small "Powered by ProcessWire" line in the footer is something they can do to give back to the project.
How can we help you share your high profile projects?
With all of these things, sometimes your hands are tied on this and I totally understand (I've been there). Particularly when it comes to high profile projects, the client or agency is scared that revealing anything is a liability. (We live in a world of hacked WordPress sites after all). If you are involved in one of these projects that you think might potentially draw a lot of people to PW, perhaps there's some way we can help. Maybe if the client/agency had direct access to the PW core team in case of a question or emergency, they would be comfortable sharing their use of ProcessWire. We want to help you, so contact us and tell us what we can do to help.
Converting visitors to ProcessWire users
Getting people here is just half the job, and the other half is keeping them here. I feel confident that once someone really knows what ProcessWire is all about, they stay. Actually, we don't have to be confident about it because we know it. So our challenge is how best to communicate ProcessWire so that people get to know what it's all about more quickly and easily.
Site and branding
Part of converting visitors to users will be in our site redesign and restructuring in 2016, which some in the ProcessWire community have already started on their own, and are doing beautiful work. We owe a huge thanks to Mike Rockett for working on a redesign, Pierre-Luc for rebranding our logo, and everyone else that has contributed mockups, ideas and suggestions. It's beautiful and we can't wait to get this all implemented on our site.

The face of ProcessWire
The other side of it is the look and feel of ProcessWire itself. There seems to be a pretty general consensus that the Reno admin theme is more compelling visually to most, so we'll be working to make this the more public face of ProcessWire in version 3.0.
Cheatsheet and documentation
The ProcessWire Cheatsheet is an incredible tool for communicating ProcessWire not just to current users, but to someone new that's evaluating it. So we'll be putting a lot more efforts towards the cheatsheet, ensuring it is fully up-to-date and built out with more complete examples and related documentation.
What else?
What else can we do to ensure that when a web developer or designer visits processwire.com, they get to know what ProcessWire is all about as quickly and easily as possible?
Our traffic from October 2010 to now
Here's a screenshot from Google Analytics showing our traffic at processwire.com from the day we launched until today. As you can see, we've had nice steady growth every year. Every year we have an expected dip in the December/January period for the holidays, and we're just emerging from that now. But if the last week is any indication, 2016 is going to shape up quite well!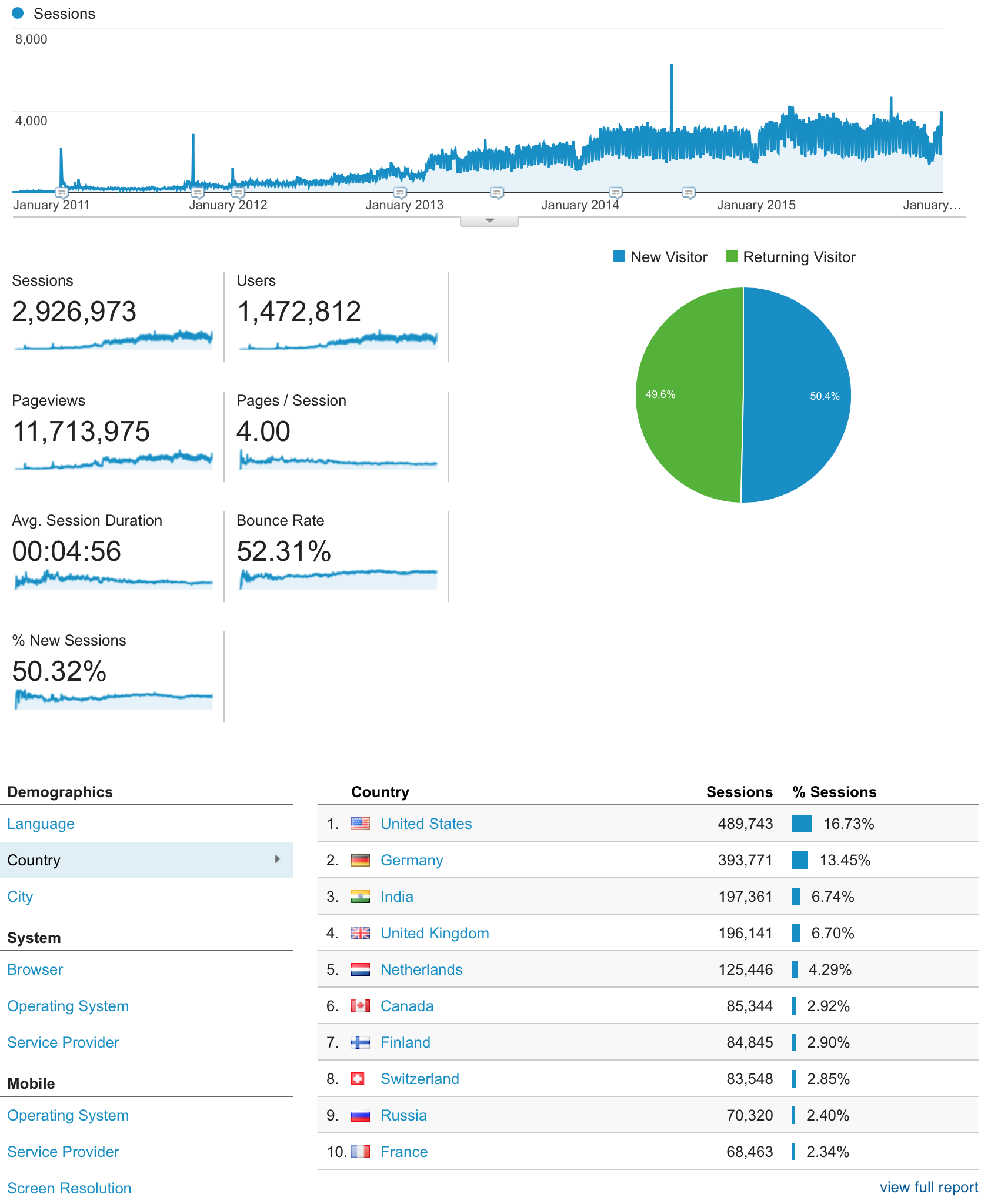 Personally, I would still be here doing the same thing, developing PW every day, whether our traffic was growing or not. That's because it's what I love to do, and what a lot of others here love to do as well. But it always makes me happy to see how much progress we've made. I'm confident 2016 is going to be an amazing year for ProcessWire's growth! If you think there's anything we can do, or can do better, to keep growth strong, please reply and let us know. Thanks to all of you for being a part of ProcessWire!
Comments
15 January 2016 18
In ProcessWire 3.0.5, you can nest repeater fields and use dynamic/AJAX loading for all items. Plus we've got the first test version of Repeater Matrix released, and new support for field templates… More
29 January 2016 9
This week we've got some great new optimized methods added to the $pages API variable, plus full link abstraction now built-in, new sub-selector upgrades, and more! More